HEY 2019 Houma LA High School Seniors. You know who the best photographer in town is, so now is the time to get your game on. We are actually making senior pictures easier and easier!!! No rules, no minimums, no restrictions!! Just flat out GREAT Senior Pictures.
Everyone sees themselves differently because everyone has a different personality. We take our time and make sure that every detail is perfect. Our goal is to make sure that the background is a perfectly match to your outfit and style. It's never over retouched, and it's just the right mix of pose, lighting, and editing.
Our pricing is simple and fits any budget. Check out our price list….the first thing you need to decide on is the type of session you would like. If you prefer the look of a background, that would be an "In Studio" session. If you want to add photographs in our Portrait Park here at the studio, that would be an "In Studio/Outside" Session. If you want to also add photographs in your home, or elsewhere, choose an "In Studio/Outside/Location" Session.
Next, decide if you will need Extensive Retouching. Things like blemish removal, body morphing, or any adjustments to hair, clothing or backgrounds. Finally, choose your proofing options.
From there, our print pricing is very affordable. You place your order directly from our lab and the order is then sent straight to your home. We like to think of the whole process as simply hitting the "Easy Button".
NOW…here is the crazy good news….for the month of October…. Session Fees, Retouching and Proofs are all 1/2 price off!!! No catch 22….it's just our way of getting the word out that Kirk Voclain Photography is simply the best portrait studio in town.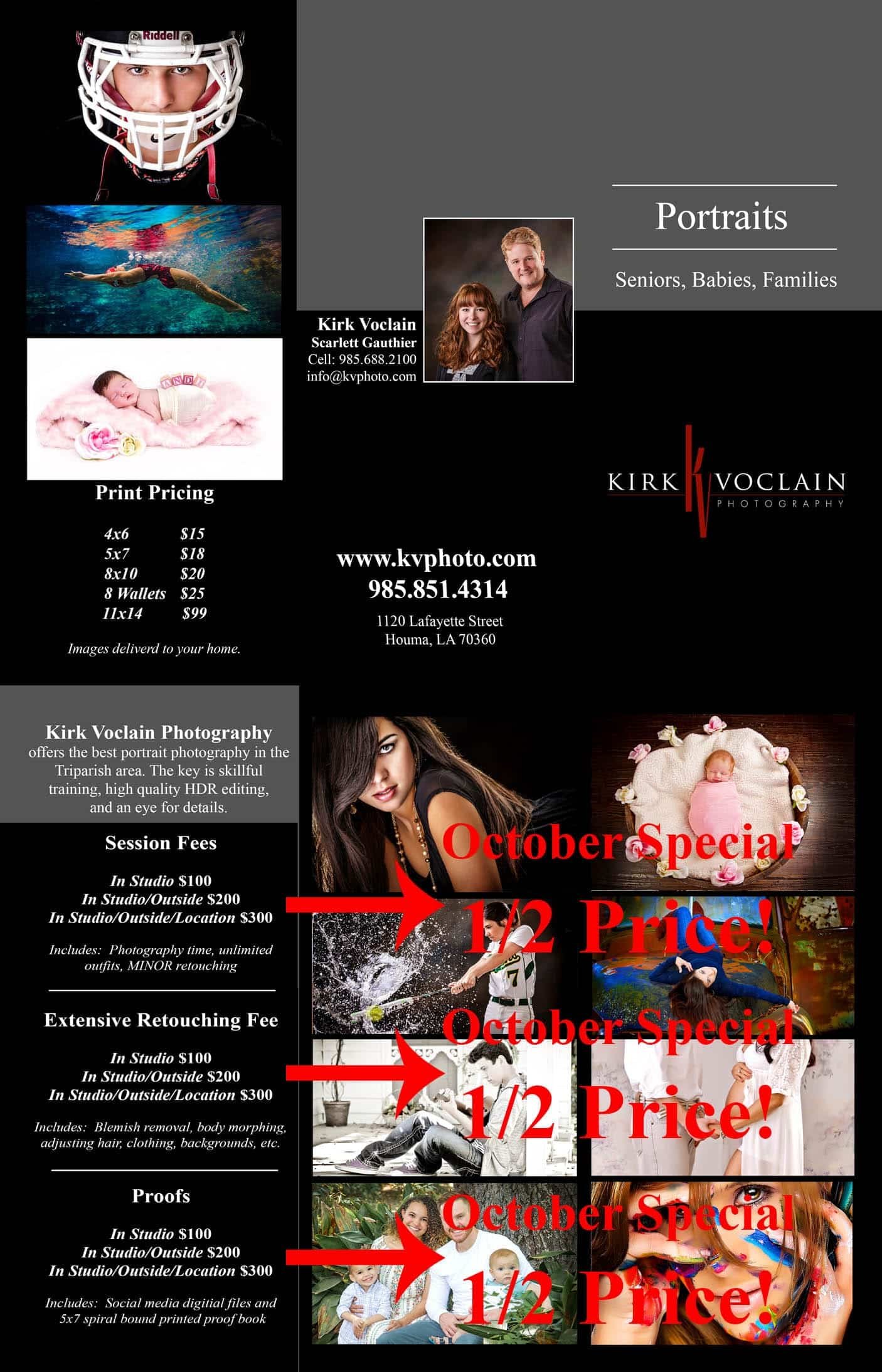 We want to be your high school senior photographer. Senior portraits only happen one time and you do not want them to be done by just anyone with a camera. Experience counts so count on Kirk Voclain Photography with over 40 years of professional photography experience.